KHIA TULLAE
BESPOKE MILLINERY
MANHATTAN, NEW YORK CITY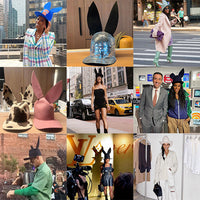 KHIA TULLAE
Khia Tullae is a New York-based bespoke millinery brand focused on creating timeless headwear from high-quality sustainable materials, handmade in the USA. Focusing on a mix of transitional pieces in dramatic proportions, each hat delivers confidence and standout sophisticated style.
In addition to the current Year of the Rabbit collection and frequent one-of-a-kind "LAB" drops, the Khia Tullae atelier in the Lower East Side is open to receive bespoke clients and editorial requests.
Contact khia@khiatullae.com for custom inquiries.